You don't actually legally require ebike insurance in the UK but when you've invested in your new machine, it's probably a good idea to protect it.
'Electrically assisted pedal cycles' referred to as EAPCs cannot propel the ebike faster than 15.5mph and they must have a maximum power output of 250 watts to be on the road and classed as an EAPC which won't require insurance – it also won't require a licence or to be registered for UK road use. You can read more about the UK legalities of ebikes here.
However, if you've just spent over £1,000 or even up to £5,000 on a new ebike then you may want to consider insuring it to protect your ebike from theft, accidental damage, third party liability or personal injury whilst using your ebike.
Are you looking for electric motorbike insurance instead? Read our electric motorbike insurance guide here.
What does ebike insurance usually cover?
Theft – covers you if someone nicks your ebike, so you can get the money to  buy a replacement
Accidental damage – covers repairs if you have an accident on your ebike
Malicious damage – covers repairs if someone vandalises your ebike or cause damage attempting to steal it
Third party – covers liability if you cause an accident on your ebike resulting in damage or injury to a third party
Personal accident – cover you for injury if you have an accident in which you are hurt. Different injuries have different pay outs but watch for how much they offer, serious injuries such as loss of limbs may not give you that much!
What else can ebike insurance cover?
EU cover – you'll need to answer that you use your ebike abroad / in the EU, then if available, you'll have cover to use your bike abroad – again check what is covered for this use when purchasing your policy.
Global / worldwide cover – will usually be a little more than EU cover, as it will include some some more risky choice of destinations – but it's available for you should you want to travel to more far flung countries.
New for old – sometimes an claim may only result in what the ebike is worth second-hand, so the depreciation will affect your pay out. Some insurers offer new for old cover, where if your ebike is less than one or two years old, you'll get a new replacement.
In- vehicle / on-vehicle cover – what if you're not using your ebike and it's not at home? For example, it's in your car, van, campervan or motorhome or on a rack on your vehicle. Some ebike insurance will provide cover against theft or damage whilst your ebike is in transit.
Breakdown cover – same as with any vehicle, if you breakdown when using your ebike, you can call someone to come and help. They may try to repair the bike on the roadside, take you somewhere to get it repaired, provide alternative transport or accommodation. You'll need to have a good read of the cover you get, as there could different levels of ebike breakdown cover available.
Accessories – will provide cover for things such as luggage, luggage racks, sat navs, lights or other add-ons to your ebike that are manufacturer spec or standard
Personal belongings – will be similar to your accessory cover, and may cover things such as your phone, wallet, keys etc. you may need to buy this cover separately to your ebike insurance.
Race / compete – looking to use your ebike in competitions, come insurers will offer cover for your race fees or travel costs should you be unable to race.
Cover for other family members – you may an insurer who includes cover for use of your ebike for other family members who live at the same address as you. You may need to request this or add them as a named rider to tick all the boxes.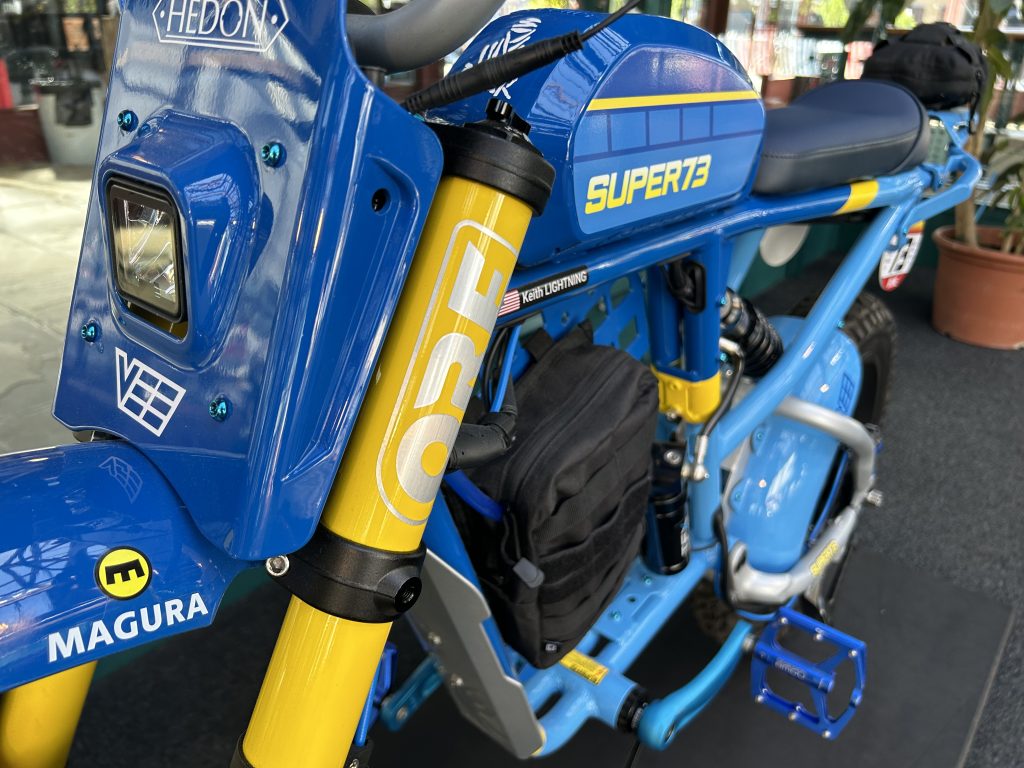 What doesn't ebike insurance cover?
You may find that standard ebike insurance doesn't cover you to deliver things such as fast food on your ebike, that will often require specialist business use insurance, which may be best found via your employer as part of a fleet.
If you leave your bike unsecured or out of your garage or locked overnight storage, when you have declared that it will be locked using security devices and / or stored in a locked building, then you may find your ebike insurance claim is invalidated.
It also important to make sure the info you provide during the quote process is accurate, for example, if you state you'll be storing your ebike in a garage overnight but in reality it's being stored in an underground car park which is accessible by others then you'll find yourself struggling with your claim.
You must pay attention to the definition of a garage, which we cover further below but it must not be accessible by others, who could basically nick it! Like a underground car park.
If you can't provide proof of purchase for your ebike too then you may have difficulty making a claim, so get that receipt, put it on a card where the transaction can be seen on your online bank statement.
You'll struggle to claim for minor damage and cosmetic damage such as scratches to the ebike or your accessories – it probably won't be worth it for the excess either.
How do I get ebike insurance?
You'll find various ebike insurance providers on Google or you can hit up a comparison website to compare various ebike insurance quote.
Due to the fact that you aren't required by law to have ebike insurance, the process for obtaining an ebike insurance quote can be much less labour intensive then getting a quote for your car, motorbike or van where they want to know your job, marital status, home ownership, inside leg measurement etc.
An ebike insurance quote can usually be calculated by a smaller amount of information including:
· Make and model
· Value of your ebike
· Your name, date or birth and postcode
· How you will store your ebike
· How / where you'll use your bike
How do you get cheap ebike insurance?
The number one rule is to keep your ebike safe from thieves and theft.
Ideally keep it locked inside a concrete based building at night at your home address, then it will be classed as a garage by most insurers. A concrete base shed that is locked and not accessible by others will generally be classed as a garage.
Layer your security measures, 1) keep it locked away and out of sight 2) use a solid chain 3) anchor that chain to an immovable object 4) use a second lock, such as a disc lock.
If you get your ebike gets stolen then your replacement will probably be more expensive to insure next time or you may even have trouble finding someone to insure it!
You can also try increasing the amount of voluntary excess you'd pay if you had to claim, this can sometimes lessen the overall premium as it would also reduce the final pay out your insurer will have to make.
Cancelling your ebike insurance
As with any insurance, if you cancel your ebike insurance whilst you're in your 12 month contract (contract is the important word here) then you may well get hit with a cancellation fee. Make sure you keep an eye on the amount and the conditions for this being imposed before you purchase.
There might be a 14 day cooling off period on your ebike insurance but this may well include a reduce fee, perhaps half of the normal cancellation fee. Make sure you check out that small print if you don't want to be hit with an unexpected fee 🙁

Need ebike help and advice? Check out our guides…