Maeving is British start-up based in Coventry that was founded in 2017 by Seb Inglis-Jones and Will Stirrup.
These guys wanted to create a retro-styled, British-built electric bike that could compete with the Chinese-built ones.
They've now got a team of 16 ex-Triumph engineers and they've just released their first model, the RM1 – and for those of your familiar with East London postcodes, the RM1 has nothing to do with the traditional East End market town of Romford!
This bike is all about city living and has partnered with big names like Bosch and Samsung for the electric tech, so you're getting good quality, branded components within Maeving's RM1.
You can only buy the bike directly from the firm's website and they'll deliver it to your door. They won't have any dealerships, but they will have a few 'pop up shops' including one at London's Battersea Power Station's new shopping centre.
The Maeving is available with a single or a dual battery, costing £4995 and £5990 respectively, but you can buy the second battery separately if you want.
It's a gorgeous, well-built bikes with great features and aesthetics with an attention to detail. It's definitely built for the city, where its light weight is a big advantage, but it does struggle outside of the urban environment.
It's an A1 licence legal bike, which means you can ride it on a restricted licence after completing a CBT. It's a cool bike that's perfect for a new wave of motorcyclists looking for some cred on an e-machine.
If you talk to a motorcycle enthusiast about Maeving, they might not know what you're talking about. But if you show them the new Maeving RM1 electric motorbike, they'll be hooked.
Maeving created the RM1 alongside a group of engineers from Triumph with the aim of creating an electric bike specifically for urban commutes.
The RM1 is the equivalent of a 125cc petrol-powered motorcycle, and it weighs just 95kg. It has a top speed of 45mph, and it's not designed for speed.
Maeving even offers a cheaper 28mph version of the bike. Prices start from £4995, with a battery costing an additional £1195, or £995 if purchased alongside the bike.
The RM1's 57.4-volt battery pack weighs just 10kg, and range comes in at 40 miles, which can be increased to 80 miles if you add an additional battery that slides nicely inside the mock fuel tank on top of the bike.
Charging is made simple because you can remove the battery, and it can be plugged into any domestic socket to be charged up, eliminating any reliance on the public charging network.
Stirrup says a visit to China inspired the team to produce a high-quality removable battery. The removable battery is such a good concept, but in China it wasn't being done in the right way for the European consumer.
That's when they decided to take the concept to a group of engineers from Triumph; design and make it in the UK and make sure it is built to last.
Maeving's co-founder was always adamant that the RM1 had to include a removable battery for one clear reason: the inadequacy of the public charging infrastructure. Stirrup wanted to remove this dilemma from electric motorbike ownership to allow for maximum pleasure and convenience.
Upon first glance, you might mistake the RM1 for a vintage bike from the turn of the century, with the close-fitting mudguards, wire wheels and classy brown leather seat harking to motorcycles like the Indian Board Track racer.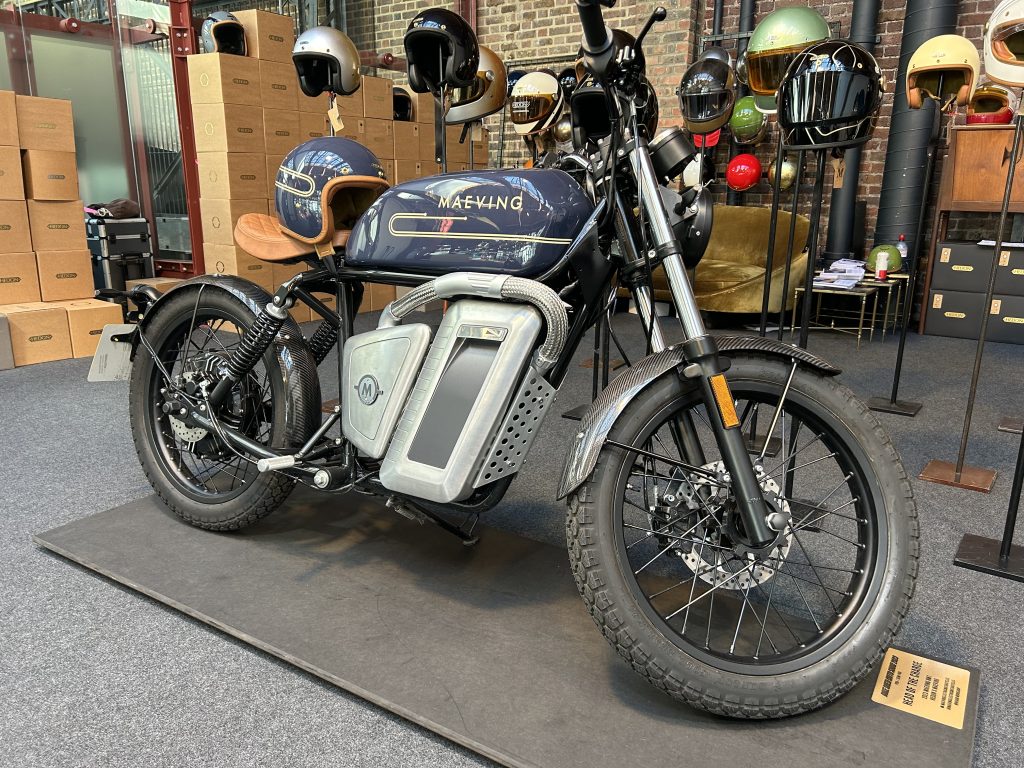 There's no question the retro-styling sets the RM1 firmly apart from other machines in its class.
Maeving aren't encouraging die-hard motorcyclists to get rid of their traditional petrol powered motorbikes.
Maeving are highlighting that a town bike no longer needs to be powered by petrol and instead you can have an electric bike for your inner commute whilst maintaining your current pride and joy, be it a sports bike, cruiser, scooter, moped or naked petrol motorcycle.
Maeving are challenging electric motorbike stereotypes by creating a machine that looks like nothing else available.
They're focused on giving customers the best experience possible, and eager to create some brand advocates who are open to embracing the inevitable change with the growth of electric two wheelers.
Need ebike help and advice? Check out our guides…