There are some pretty spectacular looking ebikes out there these days for all different tastes, but there's a certain retro style that really does look cool. The retro style ebike, sometimes referred to as a fat tyre ebike does look great and resembles motorbike styling.
We're taking a look at some of the best retro style, motorbiked style, fat tyre ebikes available right now.
What retro ebike list would be complete without the brand that comes first on our list, Super73…
Super 73 R Adventure – costs £5,000
Super73's R Adventure is a top notch retro styled ebike, it's got a price tag to match it's coolness but you're going to turn heads blasting down the road on this bad boy.
Its moto-inspired seat offers an abundance of space, allowing you to effortlessly find the perfect riding position. With an extended seat you'll be comfortable throughout your ride, regardless of the challenging terrain or unpredictable weather conditions you may encounter.
The R Adventure's adjustable full suspension system is also worth noting. Equipped with an air-assisted, inverted coil spring fork and a rear piggyback Coilover mono-shock, this bike offers remarkable adaptability to varying terrains. The suspension is designed with preload, compression, and rebound adjustments, allowing you to fine-tune your ride to match your preferences.
The R Adventure's battery has been strategically repositioned into the frame. This new design not only optimises stability but also allows for a longer seat, so you've got room to shift as you ride. With the battery seamlessly integrated into the frame, you can enjoy extended rides without compromising on performance or comfort.
Equipped with the McFly handlebar, the R Adventure offers superior control and manoeuvrability with comfortable grip. The Snowshadow SE model stands out with its lower-profile Blain handlebar, providing a distinct aesthetic and catering to riders seeking a unique riding experience.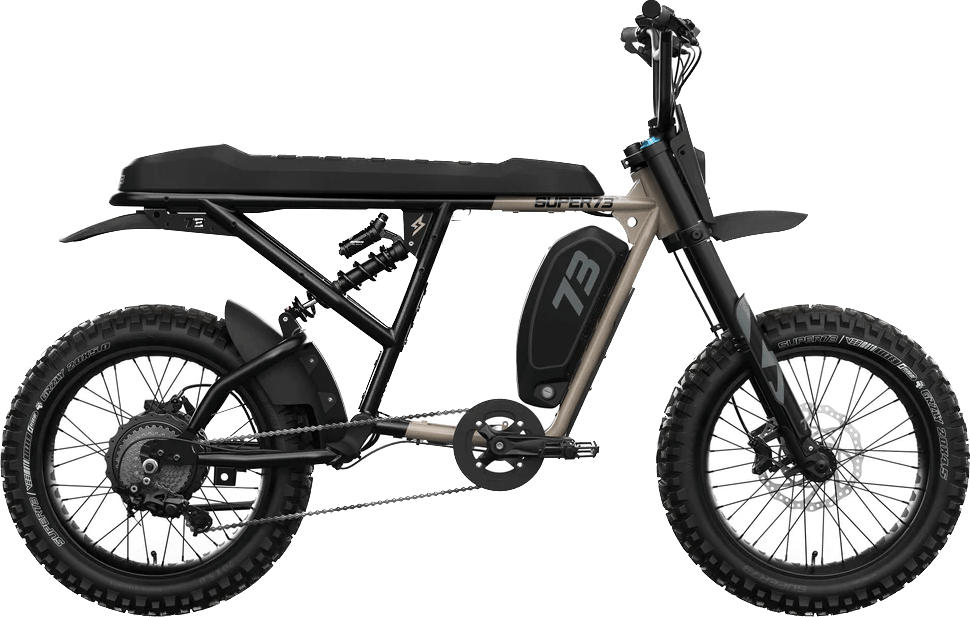 The Snowshadow SE color introduces a great few option for an original machine. Each frame pattern and design is meticulously hand-dipped, resulting in a unique finish. No two frames will be alike, making each Snowshadow SE bike an exclusive work of art.
The R Adventure from Super73 is one of the best retro ebikes available. From its comfortable and spacious seat to its adjustable full suspension and repositioned battery, this motorbike style ebike is a premium choice.
Zooz Urban Ultralight
The Zooz Urban Ultralight looks incredible with it's 'real steel' chrome finish. Its frame is crafted using the premium alloy 4130 Chromoly Steel, renowned for its exceptional strength and durability. This alloy not only looks great but allows the ebike to absorb bumps and uneven surfaces with ease with awesome handling.
Like the previously mentioned R Adventure the Zooz Urban Ultralight comes with a long seat, so you have the freedom to adjust your position, whether your prefer to be closer or further from the handlebars, to suit your preferred riding style.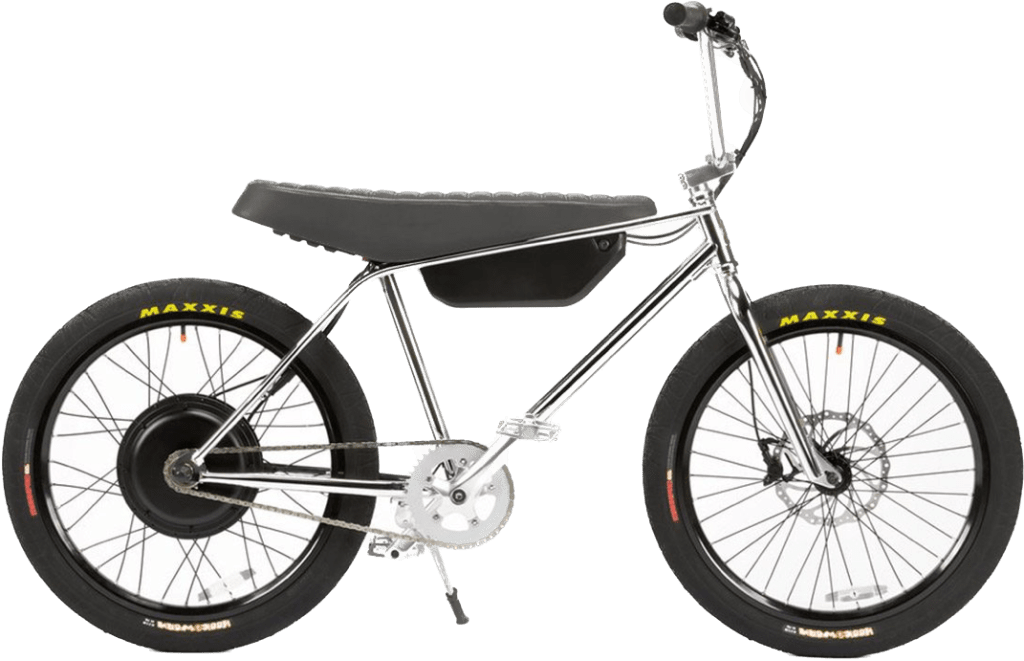 Equipped with Maxxis Hookworm tires, double-wall rims, and thick spokes featuring reinforced spoke eyelets, it's a true workhorse, engineered to handle the most demanding terrains and challenges. ZOOZ has crafted these bikes to ride hard, and they encourage you to do the same!
Each bike comes standard with a tail light and the ability to add a headlight. Plans are afoot for Zooz to introduce fenders, limited edition seats and headlights off the shelf.
Ruff Cycles Biggie – costs £2,938
Ruff Cycles' Biggie ebike comes with a steel frame which is coated with a protective powder finish, ensuring durability and resistance to the elements but also looks beautiful.
Powered by a Bosch motor, you have the option of the Active Line with 40 Nm, offering smooth and reliable performance, or the Performance Line CX with an impressive 85 Nm, for additional torque.
The battery is also made by Bosch with options of 300 Wh or 500 Wh. The higher capacity battery will suit those that need extra range on their journeys.
Enjoy effortless riding with the convenient Pedal Assist feature, allowing you to effortlessly glide along at a maximum speed of 25 km/h. Equipped with hydraulic disc brakes the Biggie has solid stopping power.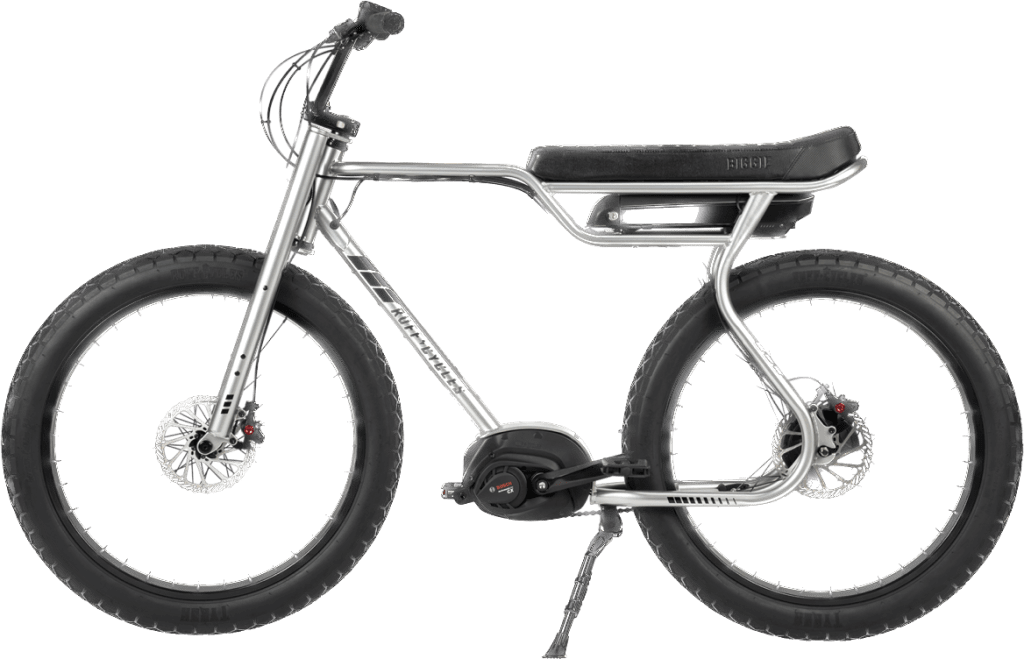 The Biggie eBike boasts 26″ 65mm double-walled aluminum construction wheels with Tyron tyres. Not only do they provide strength and stability, but they also contribute to a smoother and more comfortable ride.
While packed with features, this eBike remains relatively lightweight, weighing in at 33 kg. With dimensions of 178 x 75 x 114 cm, this eBike offers a well-proportioned frame that provides a comfortable and ergonomic riding position.
Knaap Two Seater Fat Tyre – costs £2,299
Equipped with a powerful and reliable 36V 21Ah Samsung battery the Knaap Two Seater Fat Tyre has a range of 140 kilometres.
Boasting a Shimano seven-speed gear shift system, changing gears will be a breeze across different inclines and terrains. The same comes for when you need to stop, the Knaap Hydraulic brake system will give you a quick response to provide an excellent riding experience.
You may have guessed for the name, but this ebike comes with two seats so you can take a pillion passenger with you in comfort an style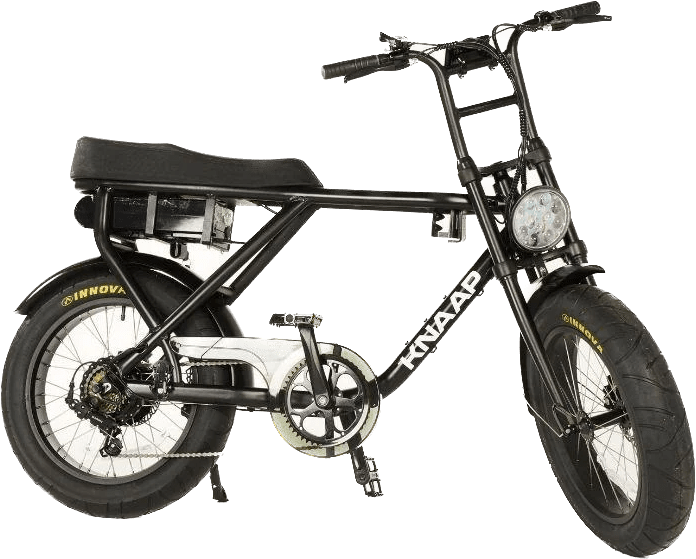 The illuminated LCD display provides essential information at a glance. You can stay informed about your riding speed, distance covered, battery level, and more, all conveniently displayed above your handlebars. It also comes with a 1200 lumen headlight as standard for evening rides.
The 25 km/hour 250w Bafang motor is built to comply with UK ebike road regulations, safe in the knowledge you're riding with zero emission and within the law.
The Knaap Two Seater Fat Tyre comes in Black or Space Grey with 20″ wheels and a 83cm seat height, although it is adjustable.
Synch Super Monkey – costs £1,899
The Synch Super Monkey is a retro-style ebike manufactured in the UK. Meticulously crafted and manufactured in the UK.
The frame is constructed from high-grade 6061 Aluminium, which is lightweight and strong and it's powered by a reliable 250w Bafang Rear Hub motor.
The Super Monkey provides an impressive range of up to 40 miles on a single charge with its 36v 15Ah battery. The inclusion of front forks suspension will absorb shocks and vibrations, giving you a more comfortable ride.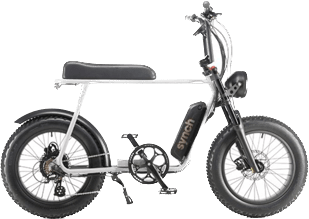 The Super Monkey features a Shimano 7-speed gear system for easy gear switching and Tektro hydraulic brakes for great stopping power.
The 20″ x 4″ tyres are available in various tread patterns for different surfaces. Additionally, accessories include lights, mudguards, and a rear Topeak rack.
Its rider height range is 5'4″ to 6'6″ with a load capacity of 120kg so it can cater for larger riders. but it remains lightweight, weighing in at just 25kg. It also comes with a two year warranty on the frame and fork plus one year for the electronics.
Cyrusher Kommoda – costs £1,599
With its step-through frame the Cyrusher Kommoda is a good option for shorter riders offering good suspension with fat tyre grip.
With a 250w motor it's compliant with UK ebike law and can reach a peak of 1000w. It has a range of up to 50 miles on a single charge of its 48 volt 14 amp-hour battery.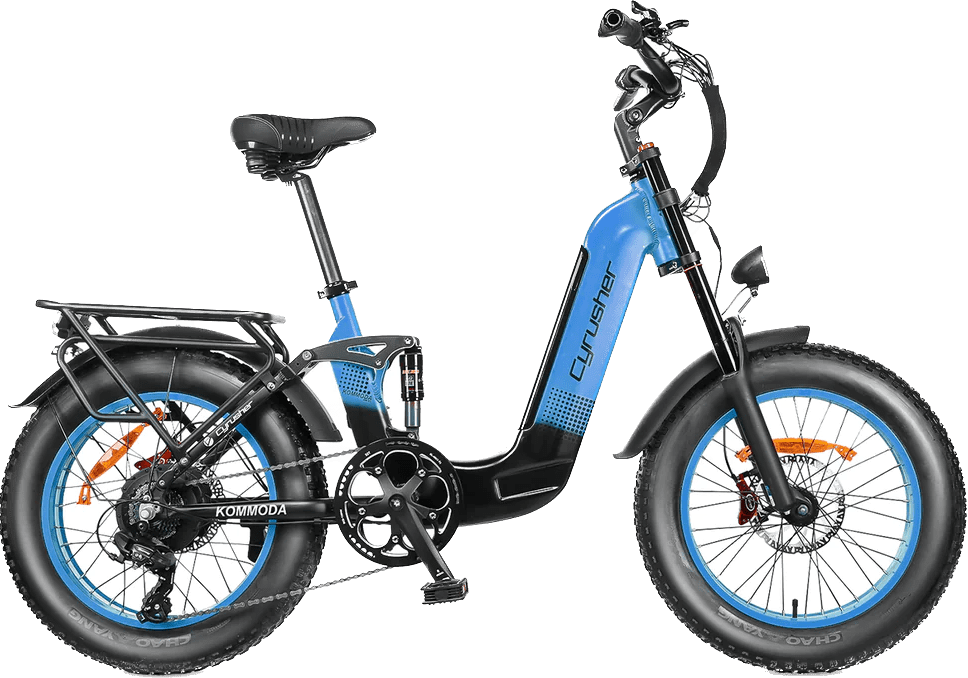 Built to carry loads of 150kg it can cater for larger riders or those looking to carry heavy loads. The rider height range is 5'1″ to 6'2″ so will suit a shorter rider.
Included with the e-bike are essential accessories and tools to enhance your riding experience. The Cyrusher Kommoda package consists of the battery, charger, air pump, assembly toolset, assembly guide, battery manual, user manual and stickers to add a personal touch if that's your thing! It also comes with a two year warranty.
Cruz73 Retro Bike – costs £1,449
The Cruz73 Retro ebiks comes with an aluminium frame, front and rear brake discs with Kenda Fat 20-inch tyres.
Its SW900 LCD display provides all the information you need at a glance, from speed and distance traveled to battery level and more, stay informed about your ride's stats.
Enjoy evening rides with it's large front LED headlight and rear LED taillight. Powered by a quality Bafang 48V 250W motor, it's UK road compliant.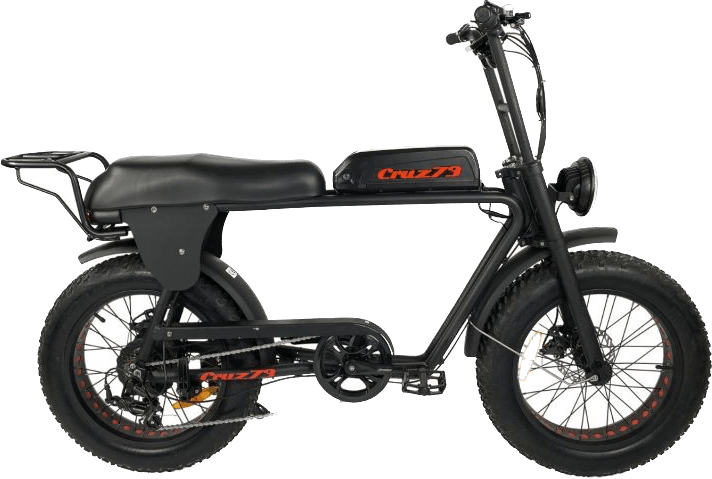 With a 48V 10.4Ah lithium battery and SANS 54.6V battery charger provides reliable and efficient charging, alongside Shimano seven speed gears.
The NUTT S-5 brake system will make sure you can remain safe in commuter traffic plus the ebike offers a built in USB charging point.
Does it look like Cruz73 is trying to mimic Super73? It looks like it, but we've kept it on our list for you to form your own opinion!
Engwe M20 Fat Tyre – costs £1,449
Crafted from high-quality 6061 aluminium alloy the Endwe M20 offers strength and durability in its frame.
With 20″ x 4.0″ size tyres and a 48v 1000w or 750w brushless motor, this ebike isn't in the 250w UK road compliant power range, so it would need to be used on private land, but it will be good fun there with impressive power.
You can choose between the 13Ah battery version, featuring a 48V13Ah Lithium-Ion Battery, or the 26Ah batteries version, equipped with two 48V 13Ah Lithium-Ion batteries for added range. You can also enhance your storage options with the included 4.3L rack bag
Again, not compliant with UK road laws for ebikes you hit a top speed of 28mph but the speed can vary based on surface conditions and rider.
Enjoy an impressive maximum mileage of 34.17 miles in electric mode 1 and 47 miles in PAS mode 1, with a torque of 55Nm.
With dual front lights and a back light and charging time of five hours, it also has front and rear 160mm mechanical disc brakes.
The Shimano 7 gearing provides easy gear shifts, the Engwe M20 has a total weight of 40.5kg and a maximum load of 120kg. It states it's suitable for riders between 5ft to 6ft8″ so can apparently cater for a massive rider height range!
RadRunner 3 – costs £2,119
The RadRunner 3 is a utility retro style ebike which has a 48v smart charger for its 672Wh battery – it can be used on 100v-240v AC power outlets.
At 250w and 48v you're set for UK road use, a handlebar display provides all of your info at a glance including charge, speedometer, trip odometer, trip time, clock and more.
Featuring a 250W brushless Rad Power Bikes geared hub motor with auto-on headlight and rear light with brake light indictor functionality for added safety.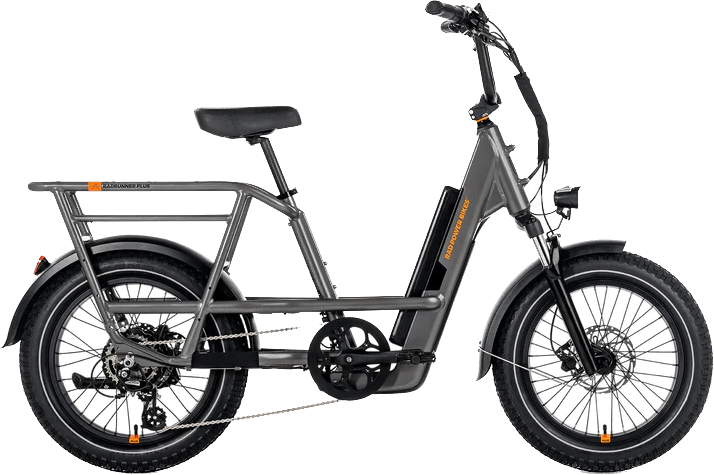 Experience the convenience of our intelligent 5-level pedal assist system with a low-profile cadence sensor, the RadRunner 3 offers a range of 40-70km per charge.
The RadRunner 3 also offers a half grip throttle for a power boost of 6km/h without the need to peddle, ideal for that blast of acceleration!
Equipped with water-resistant connectors and a wiring harness, it can tackle all weather conditions and comes with optional USB ports for your device should you require it!
NewGen 345 – costs £2,490
Every aspect of the 345 is carefully crafted to ensure an easy and enjoyable ride. From the handcrafted maple cargo deck that offers ample storage space to the soft and wide saddle for extra comfort. The lightweight and rust-proof aluminium frame ensures durability for commuting and leisure riding alike.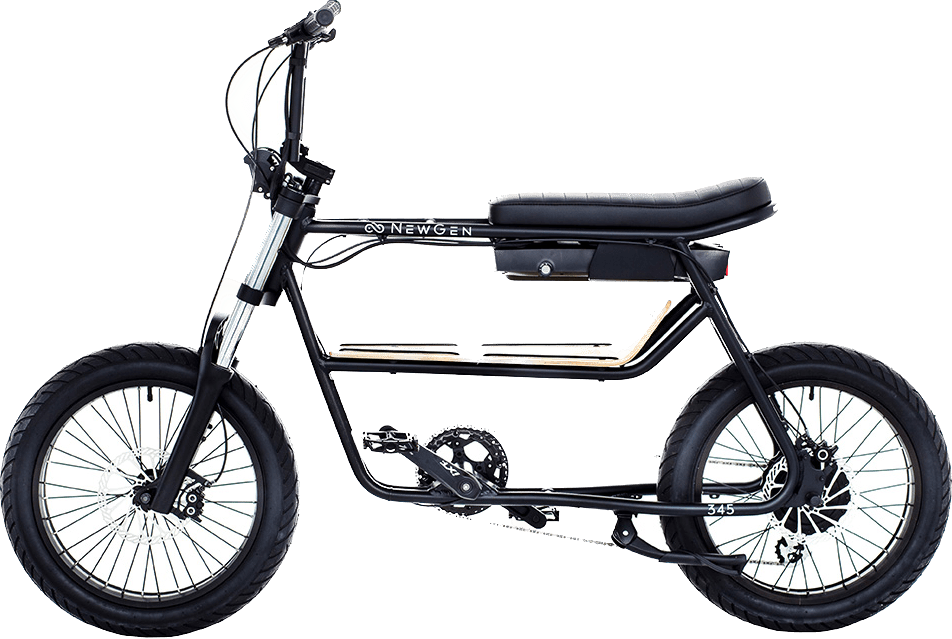 With its adjustable suspension, 8-speed Shimano gears, and five levels of pedal assist, the 345 can tackle different terrains, helped with a range of 50 miles and wide tyres. If simplicity is your preference, you can choose the 'single gear' option for a low-maintenance riding experience.
It's equipped with an 18w headlight and a sleek tail light and a USB socket for your devices.
Cooler King Kub 250s – costs £2,250
This retro-inspired 250-watt ebike offers a fat motorbike style seat, with room for a pillion plus foot pegs for them. A coil rear suspension and front suspension will improve the comfort for both riders.
It has two removable batteries for extra range as well as dual function front headlight, protected by a mesh grill – plus a LED rear tail light with brake light functionality.
You can choose between three colours, burnt orange, deep red and JPS gold.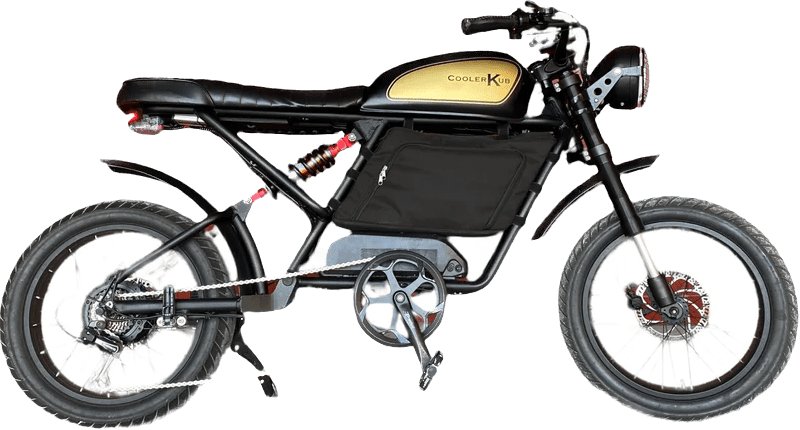 Spec wise the Cooler King Kub 250s has a 250-watt Bafang Motor, 36v 17.4aH Samsung battery integrated into the 'fuel tank', Tektro hydraulic brakes and a Shimano Tourney seven speed gear system.
The typical Kenda fat tyres make an appearance and it's got a thumb throttle for those speed boosts.
Top speed is limited to 25km/h (15.5mph) for road use, while off-road use allows for a top speed of 37km/h (23mph), weighing in a 32kg the frame is covered for a massive five years, motor for two years and other electrical parts for one year.
E-Champ RAW – costs £3,990
Each E-Champ RAW ebike has a bespoke paint in Monza Grey, a British Built frame with its own individual identification number and ISO 9001 accreditation, guaranteeing exceptional craftsmanship backed by a lifetime guarantee!
The hand-upholstered quilted tan Cafe Racer seat, the attention to detail extends to the fitted Bafang front and rear stainless steel alloy wheels, plus Kenda low-profile tires.
Powered by a reliable Bafang 250-watt motor, you can also stay informed with the high-tech display unit, keeping you updated on your speed, distance traveled, and other important metrics.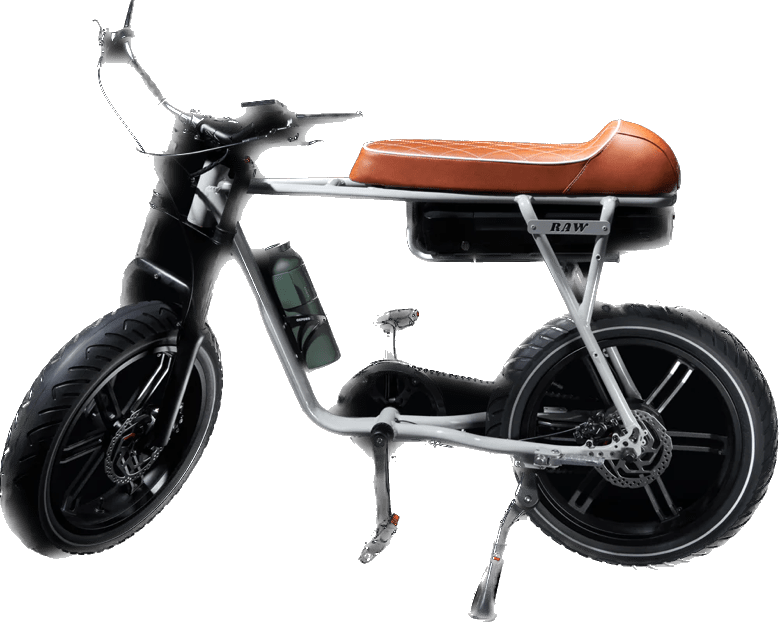 With a Bafang 5-speed electric pedal assist, and a Bafang throttle at your fingertips you've got great control over your ride. The Shimano high-tech chain system ensures smooth and reliable gear shifting.
With the detachable 36-volt battery, you can recharge the E-Champ RAW in just 4 hours. Depending on the rider's weight and road conditions, you can travel up to 50 miles on a single charge.
Well there you have it, that's our list of the best retro ebikes, certainly some food for thought! We hope you like what you saw and good luck in your pursuit of a retro / fat tyre / motorbike styled ebike.
Check out all of our ebike guides…