Cake electric motorcycles pride themselves on uncompromising high-performance with a mission to inspire zero emissions.
The Swedish company has seven selves, a goal to produce all machines fossil free by 2025. In order to achieve this ambitious goal, Cake will need to cut carbon from a number of their processes.
The biggest environmental impact of electric bikes is the meaning for lithium. The impact of lithium mining will reduce as older electric vehicles lithium batteries are recycled.
Cake was started in 2016 by Stefen Ytterborn, a Swedish entrepreneur. The goal from the start would be to create an electric motorcycle, which would look fantastic whilst producing zero emissions. Cake coordinated a successful anti poaching campaign in South Africa using their silent machines to tackle poachers
All components are engineered by Cake themselves with an aim to be light, quiet and clean. Every single detail within the cake manufacturing process is done with perfection in mind.
Combining new technology with innovation, cake, electric motorcycles a light in weight and there is no clutch or gears making them very easy to ride.
Motorcycles are quiet. They have zero pollution and they're built with the principles of sustainability and responsibility.
Cake's models
Cake Makka
Cakes electric mopeds is called the Macca is designed to be used on the streets and doubles up as a commuter and transportation vehicle.
The Macca is a powerful mobility tool and has a range of up to 50 km for the Macca flex and up to 60 km for the Macca range.
The Macca is an ultimate delivery machine and can be configured in multiple ways to fit various transportation requirements
Is agile and lightweight with a compact design. Meaning is highly convenient and nimble ,
The Macca comes into different models. The Macca flex which has a top speed of 28 mph and Macca range which has guess what a better range but only goes 15.5 mph.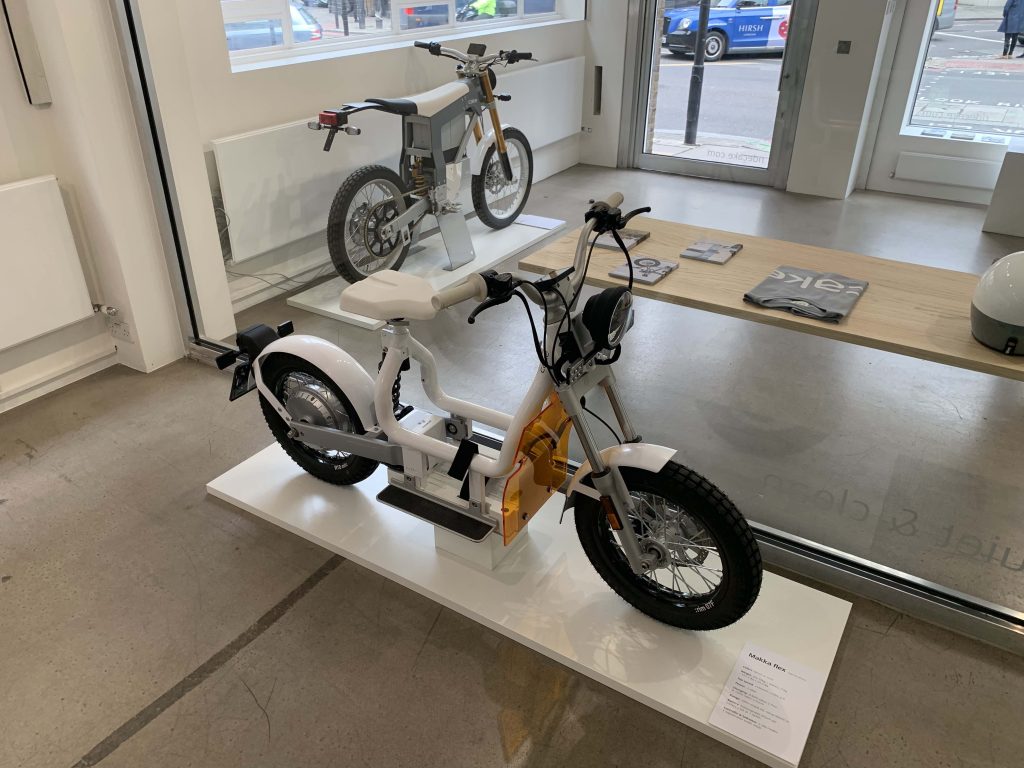 Cake Osa
Cake describe the officer model as a short haul electric workhorse has also called a uni bar. The cake Univar allows the owner to clamp on different systems such as baskets bags and racks. There are hundreds of configurations of these clamp on devices.
The officer comes with an amazing battery, which is why Cake referred to as the powerful utility machine . The battery on the officer has multiple outlets which allow it to double as a power station complete with Offgrid electricity access.
The officer could be used to transport any kit to need for any activities such as fishing, camping surfing, skiing or for work including tools for commuting.
The opposite battery, which doubles as an external power bank can be used for your electric tools, and other electronic devices, the Osser could be the Craftman of the future's best friend.
The cake also comes into models. The motorcycle version which is called the Ossa + with top speed of 56 mph and the Mo pad version which is called the boss of flex which has top speed of 28 mph.
Cake Kalk
The Kalk is cakes, high-performance off road, dirt style, motorcycle. It's agile and fun with great torque.
It's unique power to weight formula, gives it fantastic nimbleness and again with no clutch or gears, it's easy to ride.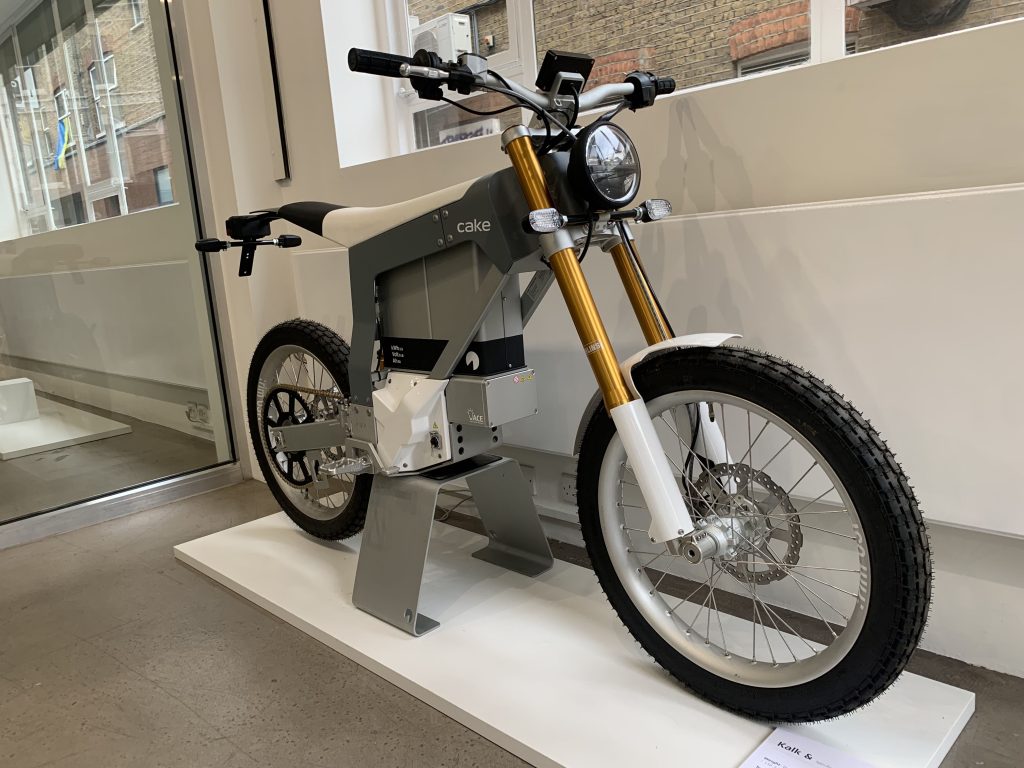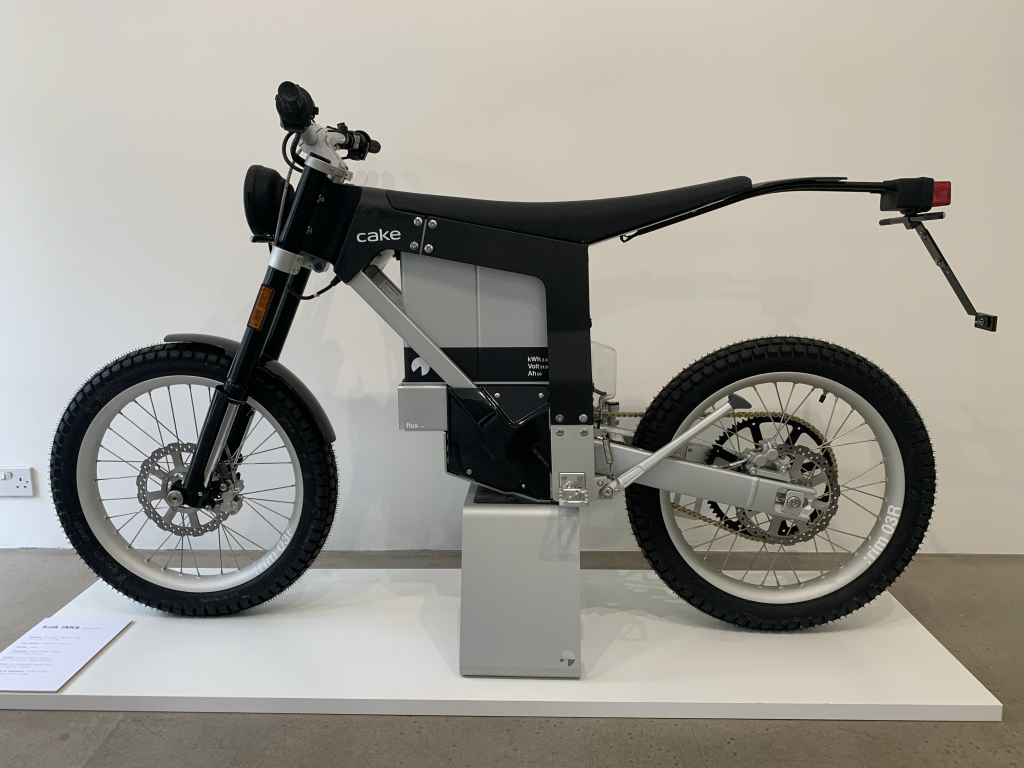 Cake Connect
Cake have their very own app called Cake Connect. Each cake bike leaves the factory with an enabled Cate Connect module which means there can be interaction between the bike and its user.
Riders could modify drivetrain characteristics and adjust torque, top speed, breaking and customise their bike to suit their riding style. Your smart phone could therefore also be used with your bikes interface and display riding performance and data.
Connect also has anti-theft features which means Cake owners can be notified if their bike is moved or stolen. An inbuilt GPS tracking system allows users to see the location of their bike in real time, meaning you have your own built in tracker to tackle thieves.
Need ebike help and advice? Check out our guides…