Folding ebikes offer the ultimate, green, convenient commuting solution. You can avoid traffic, keep fitter but got get too hot with your pedal assist or throttle, use a mixture of public transport and cycling by taking your folded ebike with you on the tube, bus or train.
On the downside, they can be slightly harder to ride than a normal ebike due to the fact that they have to be smaller to fold and carry. But as we know life is all about compromise and if you want the convenience that a folding ebike has to offer you, then you do have to sacrifice some performance.
It's about choosing an ebike that is most suitable for your requirements and needs…
So if you're not going to be using the folding capabilities for carrying at certain stages of your journey then you may want to choose a regular, non-folding ebike but if the folding aspect is going to be your main driver to using your ebike, then a folding version is clearly the way to go.
We're going to take you through some of the best folding ebikes available to you at differing budgets.
Folding ebikes cost anything from around £1,000 to up to around £5,000 – you could possibly find cheaper Chinese alternatives, but we've only included branded products in our list rather than an Ali Baba free-for-all!
Our best folding ebikes 2023 guide will help you to choose the most suitable folding ebike for you.
Mate X 250w subdued black – costs £2,750
The MATE X offers unmatched stability with its robust frame, secure full-suspension system, and twin hydraulic disc brakes. A single charge of the 250W high-voltage battery delivers enough energy to reach speeds of 25 km/h across an extended range of 120km.
In addition, the MATE X has an advanced drivetrain integrated into the design that lets you smoothly shift gears with a twist-grip gear shifter, while a smart LCD colour display screen enables you to always keep track of your pedal assist level, speed, and battery life across the duration of each thrill-seeking adventure.
The battery is 14Ah with a charger that operates on both 110V ad 230V power outlets. The motor is 250W brushless gear rear hub with pedal assist rather than a throttled ebike.
7 level power assist with integrated cadence sensor, supports to 25 km/h (15 mph). Walk assist 6 km/h (3.7 mph)The display is a smart LCD colour monitor that shows all data needed, including battery and pedal assist level with an integrated 5V charging port.
In summary, the Mate X is a top notch folding ebike, it performs well and looks slick. It fits in the medium range budget for a folding ebike and if this fits your funds then it could be the folding ebike for you.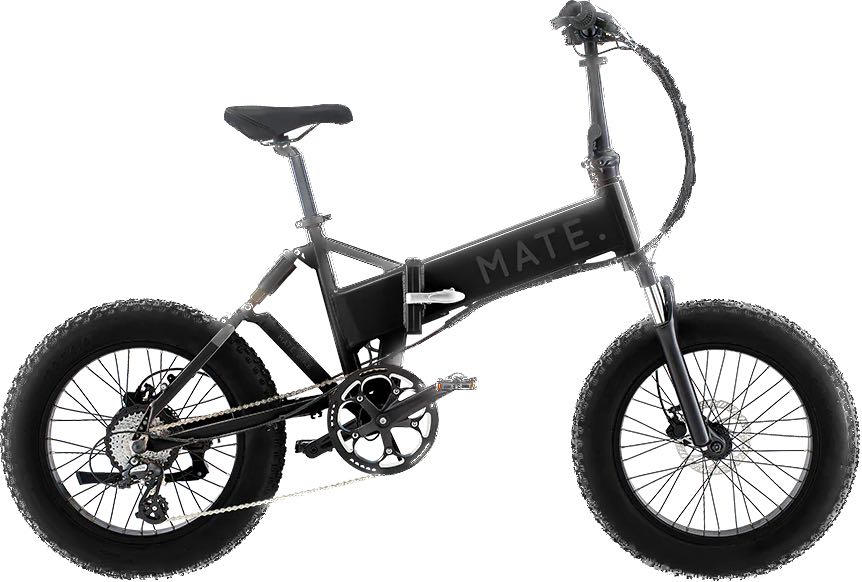 Alba Fold 2 – costs £1,299
With its frame integrated battery and light, easy-to-fold design, the Alba Fold 2 is a great value folding ebike.
A 32Nm Bafang Gear Hub motor makes uphill climbs smoother and less arduous, it also has a phone charger to power your device whilst on the move.
The Alba Fold 2 has Kenda K-Shield 3mm armoured tyres, 8 speeds, Velo Plush saddle and a Shimano Alyus series derailleur.
It comes in black or white with a range of 25 – 60km dependant on usage. The 36V 9.6Ah battery is integrated into the frame as is the SinWave controller.
It has a Bafang thumb throttle and battery powered rear light, making this a beauty of a folding ebike for a snip at £1,299 – compared to some of the other price tags on our list.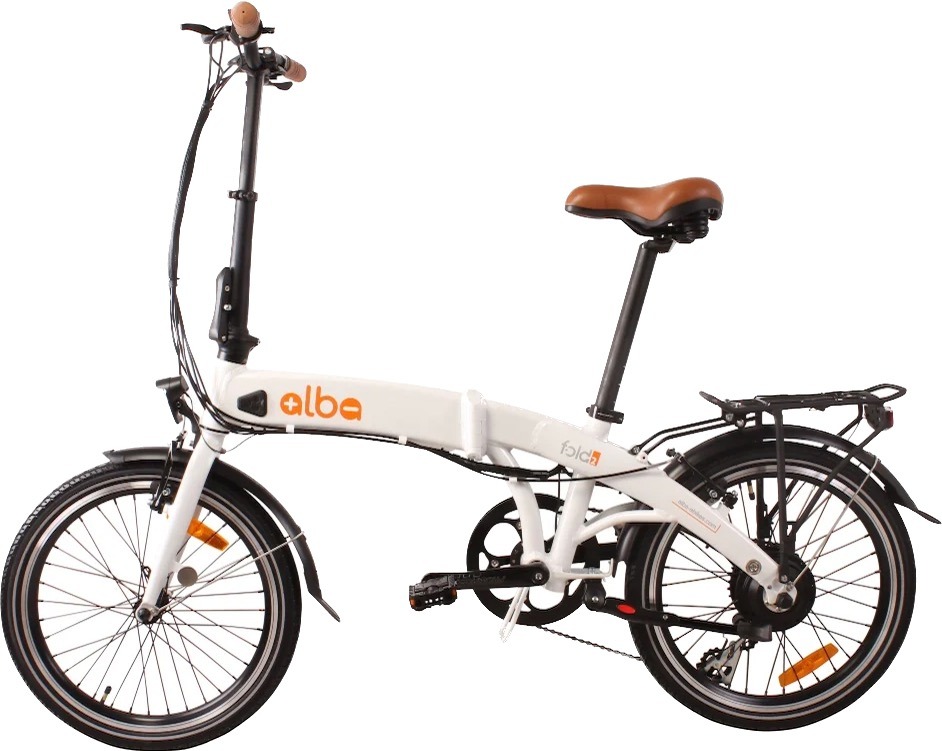 Mirider One – costs £1,595
The Mirider One has been upgraded and now comes with larger 7ah / 252wh battery as standard providing up to 45 miles range. It has a geared brushless rear hub motor with 250W and 40Nm of torque.
It is a pedal assist folding ebike with five different levels of assist, restricted to the UK limit of 15.5mph. The battery is removable and can be locked it with 36v and 7Ah with a charging time of 2-3 hours.
It has a range of 45 miles based on an average rider weight and normal terrain, you'll see less if you're of a larger stature or hitting a lot of hills.
Other features include front and rear mudguards, a front LED light, rear reflector, folding pedals, kickstand & stabiliser wheel, wheel magnets for secure folding, adjustable folding strap & battery charger.
Folded dimensions are 770x430x680 mm with unfolded measurements of 1340x575x1100 mm.
It has 16″ wheels supplied with Schwalbe Green Compound Road Cruiser tyres with with reflective side walls. It's recommended that riders are between 5ft and 6ft4″ tall for the Mirider One folding ebike.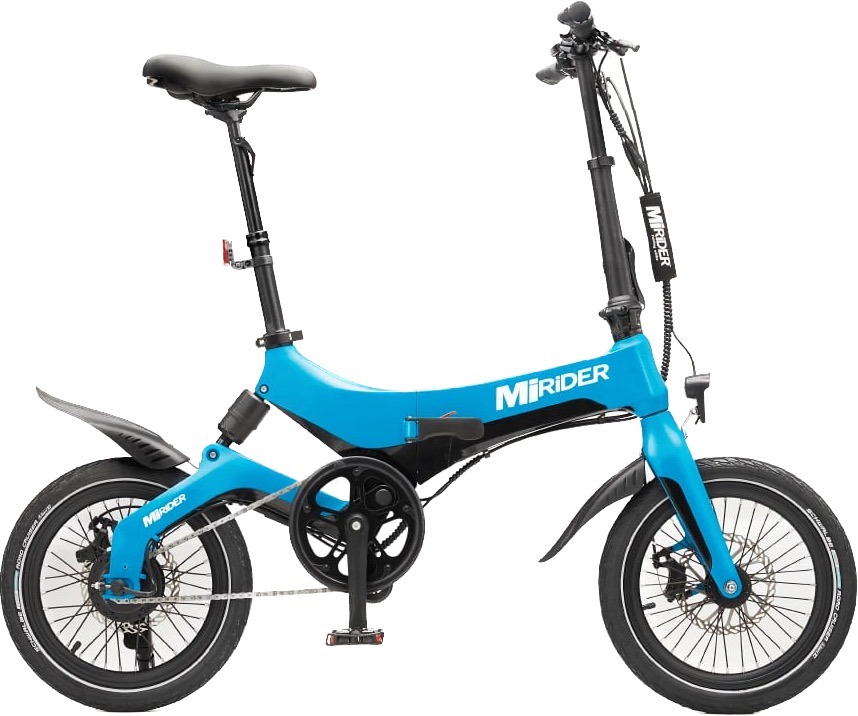 GoCycle G4i – costs £4,999
The Gocycle G4 is available for £3,999 in white, matt black or electric blue. The UK specification ebike comes with mudguards and integrated front and rear lights. There is also a front pannier bag for storage and accommodating the charger, but this an optional accessory that you will need to pay more for.
The Gocycle G4i costs £4,999 whilst the Gocycle G4i+ has a price tag of £5,999.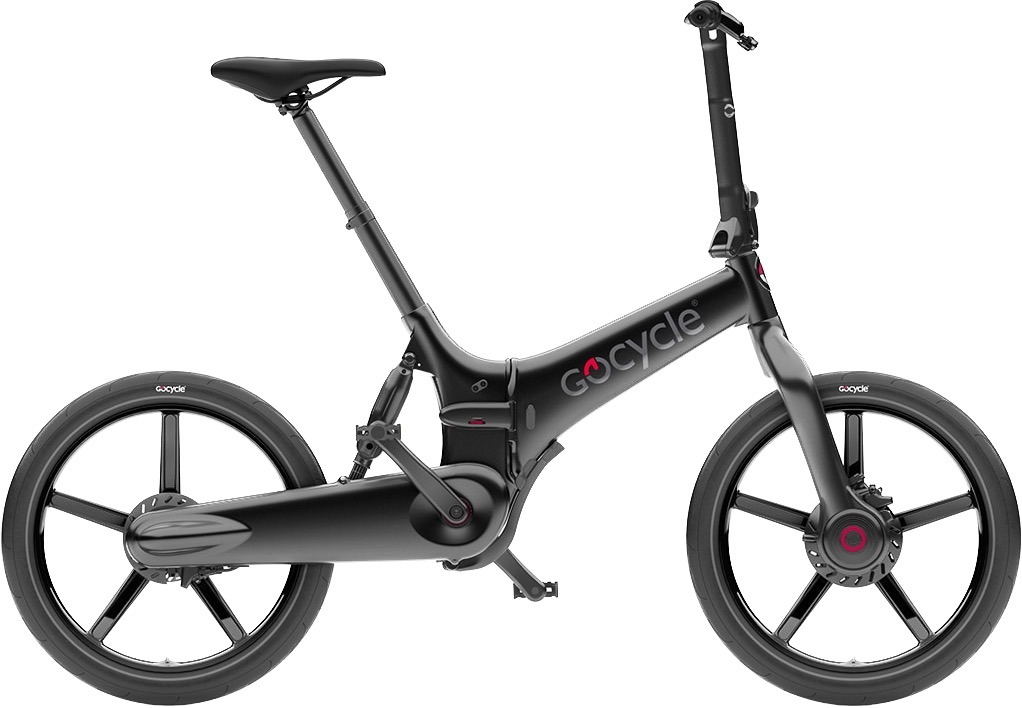 Carbo Model X – costs £2,799
The Carbo Model X is up in the higher ranges with a price point closing in on £3k but you get a premium quality folding ebike with a carbon frame.
A Bafang 250w high torque hub motor with a 36V Samsung battery gives the Carbo Model X a range of 30-55km (depending on rider and terrain) and 3.5 hour charging time.
It's a pedal assist ebike but has an optional thumb throttle and a USB charging port for your smart phone. It weighs 13.3kg including the battery as well as custom LED display plus the Carbo Model X comes with a five year warranty on the frame and two years on all electrical components.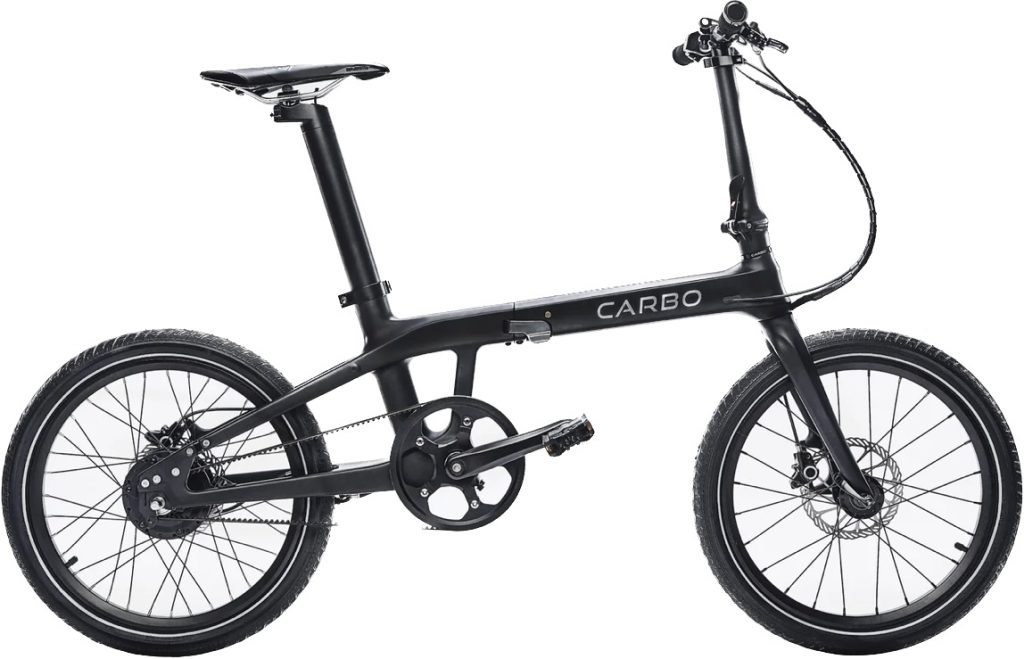 Hummingbird – costs £4,495
Hummingbird is a super lightweight folding ebike made in the UK. The Guardian called it: "The world's lightest – and possibly sexiest – folding electric bike." which is why you may need a larger budget for this bad boy.
The all-in-one 250W integrated electric rear hub motor and battery weighs in at just 3.5 kg. This will transform your Hummingbird into an ebike capable of a 40-50 km assisted ride with a maximum assisted speed setting of 25 km/h.
The charger connects to the rear wheel axle and takes only 3 hours to fully charge, the regenerating braking function also charges the battery whilst riding.
The replaceable, built-in battery has 3,000 cycles. This amazing piece of Italian engineering in a single hub has the highest energy/weight ratio on the market and is the perfect pairing for the Hummingbird.
The Gen 2.0 has 50% more torque so is even smoother and stronger. It has a remote Bluetooth 5.1 remote control to change power modes and activate the sprint assist to power up hills.
The app enables you to adjust the motor-assist level, top speed and regenerative braking function. Weighing in at 10.3kg it comes with 16″ high performance Schwalbe Kojak with Kevlar bead, puncture protection and reflective banding for high visibility.
When folded the Hummingbird's approximate dimensions are 117x60x20cm.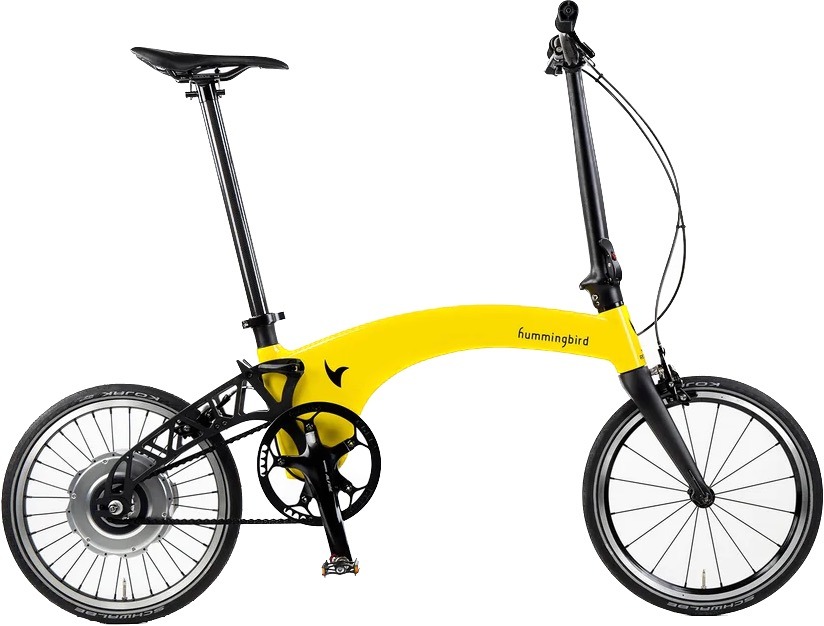 Fiido D11 – costs £995
The Fiido D11 is the cheapest folding ebike on our list but still looks great.
The 35Nm 250W high efficiency brushless geared motor is hidden in the 20-inch rear wheel provides excellent power and is compact in size and weight. It can still easily tackle steep roads with low energy consumption.
The range is 62 miles with a 36v battery at 11.6Ah, it weighs 17.5kg including the battery. The ebike size unfolded is 1480mm x 570mm x 1100mm, dropping to 800mm x 400mm x 740mm when folded.
It has a fairly hefty charging time at sevens hours, but with the lower price point you can't expect the same premium features as some of the higher priced folding ebikes on our list.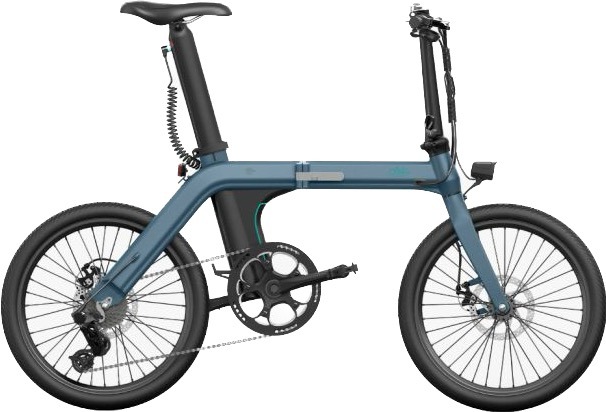 Sondors fold X – costs £1,992
The Sondors Fold X has a 48V 14 Ah battery paired with a 500w motor offers extreme torque, towing capacity, and hill-climbing power. The 500w makes it a non-road legal ebike in the UK.
Its 100% forged aluminum frame is a one-size-fits-most, with a maximum load capacity of 300lbs with a total bike weight of 66lbs. With approximate folded dimensions of L: 39" W: 18" H: 29"
Sondors Fold X tyres come in at a 20 x 4.0 inches; the Fold X features a Shimano 7-Speed gear cassette with grip shifter with five levels of electric pedal assist.
It includes an LCD screen with a digital display offering battery level, speed and distance traveled.
Sondors Fold X has an estimated battery range of up to 40 – 60 miles on a full charge. Up to 40 miles of throttle only riding and up to 60 miles when pedalling (with use of electric pedal assist).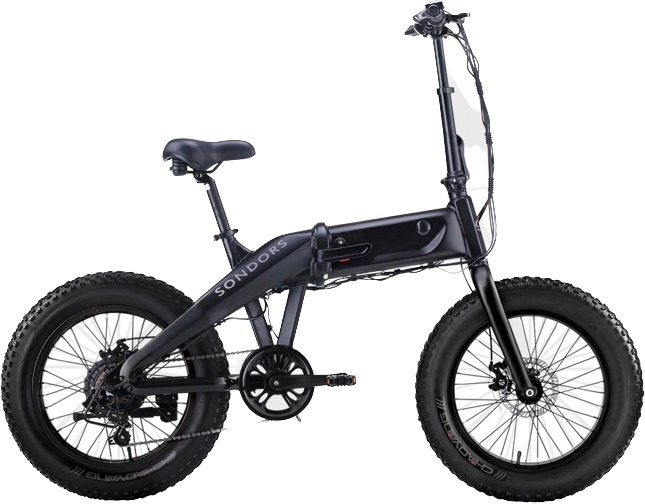 Zectron folding ebike – costs £878
The Zectron folding ebike comes in 250w or 350w versions with an aerospace grade magnesium alloy frame. A massive range of up to 150 miles with their additional battery.
The bike size folded is 85 x 65 x 80 cm and 150 x 65 x 106 cm unfolded with a total weight around 55lbs. The EU edition has a max speed of 15mph.

It has a built-in 3.9″ display and 20″ x 2.125″ tyres. You have a good choice of coloursway with the Zectron folding ebike coming in either lime, ivory, sand, bloodstone or bumblebee.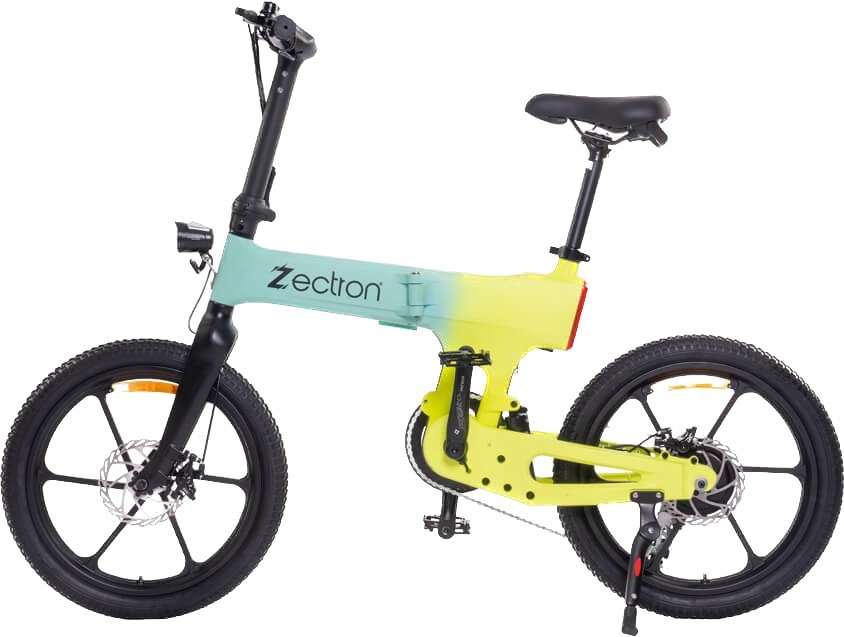 Hycon City Hub – costs TBC
The Hycon City Hub folding ebike looks amazing with its 24" wheels unusual for a folding bike. Released in 2023 it is an Italian designed compact folding ebike with a black or silver frame and leather saddle
The Hycon City Hub weighs in at 16 kg with a Shimano Alfine internal gear hub motor. It's folded size is 90cm x 60cm x 30cm.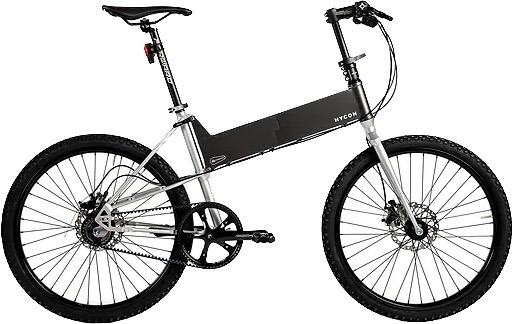 There you have it, our best folding ebikes list 2023 – we'll be keeping an eye on the latest releases and updating our best folding ebike list as we see the market develop, as we're sure it will!
Need ebike help and advice? Check out our guides…